Human Resource (HR) Module

The HR module helps you to deal efficiently with personnel management issues by managing every aspect of your organization's human resources. Use the features to coordinate employee compensation, benefit entitlements, staff leaves, employment equity, group insurance, employee evaluations, performance reviews and more.
The multi-user technology allows for authorized personnel to administer Human Resource functions securely over the Internet. Employee data is available 24/7 and easy to maintain by the company, by your managers and even by your employees.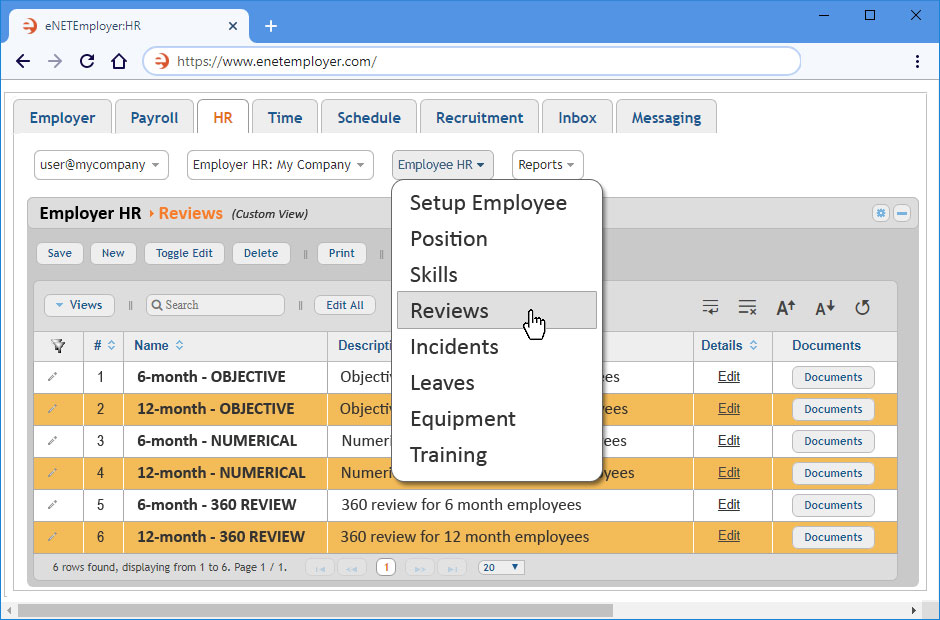 Fully Customizable HR Events and Tasks
Manage all types of incidents and workplace events including employee reviews, accidents, labour grievances, skill reviews, training courses, etc. Incident and event records allow you to include detailed documents, PDFs and related attachments.
Each HR item offers a wide-open (freeform) approach that allows you to record any type of information you need. Add detailed accounts of an event or incident, the dates on which it occurred or is due, any personnel involved, recurring incident information, and any action that needs to be taken at a later date. Incident and event tracking will help you easily perform company-wide reviews and to better manage ongoing actions.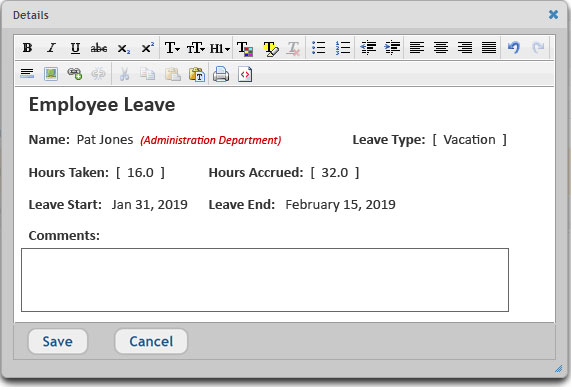 Training Course Management
Use eNETEmployer's Training feature to deploy and manage your company training courses online. You can use the feature with both your existing online courses or paper-based training materials.
You can create custom questionnaires and quizzes for each training course, and then assign courses to individuals or groups of employees. When an employee completes the course and takes the quiz, the score will be submitted automatically to your HR team or manager.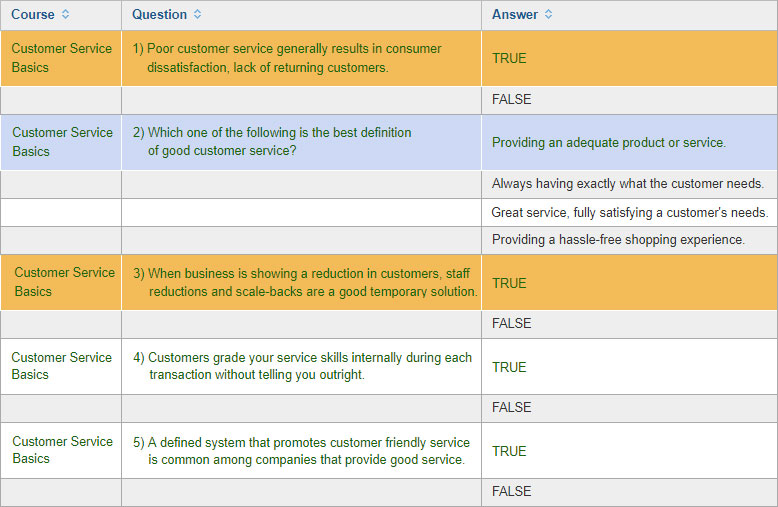 HR Features
Here are just a few of the HR module's key features:
Track Detailed Employee Information - Manage and analyze each employee's demographics, employment history, skills, education, licenses, compensation, job evaluation and much more.
Manage Company Property - Track and manage your business's important assets including inventory, surplus, reutilization and life cycle. It's the perfect solution for government, higher education, schools and businesses of all sizes looking to manage their valuable assets more effectively and efficiently.
Absence Management - Track employee absences so managers can designate replacement employees as needed. Manager's can review absence history to improve employee support and attendance.
Employee Evaluations - Perform employee performance appraisals and conduct timely reviews to improve your employee's performance and job engagement. Assist each member of your workforce so they can better understand what's expected of them and how they can help both themselves and the organization succeed.
Track Education, Skills and Training - Manage each employee's educational history, job skills and training certifications so that you have the right people in the right job.
Training Course Management - Deploy and manage your company training courses online - whether the courses are digital or paper-based.
Immunizations and Licensing Requirements - Keep abreast of important health-related dates and deadlines such as immunizations and job certifications so that both your employees and your business interests are protected.
HR and Attendance Policies - Manage your company's HR and Attendance policies and protocols. Ensure that all staff know the rules and are made aware of changes in policy and procedures as they happen.
User-Defined Access Privileges - Define the users of the HR system and assign the functions they can perform.
Bi-Lingual Support - The program supports both English and French languages for full employee support.
Choose the Get Started button or Call 1-800-665-5129 to get started with eNETEmployer HR!
---
Looking for a Payroll Solution in Canada?
CanPay provides Payroll and Human Resource software and online solutions for thousands of companies across Canada. If your business has a unique payroll or HR need or you are simply looking for an alternative to your current method, contact us today. We can offer you a customized solution that will suit your unique business requirements. Please call 1-800-665-5129 or send a request e-mail to: sales@canpay.com.