---
Year End Settings
At the end of each calendar year, all employers must complete and issue the appropriate forms (e.g., T4, T4A, RL-1) to every employee, retiree, officer or other individual to whom they paid remuneration during the year. eNETEmployer assists in this requirement by providing a facility to create the printed reports and also the electronic files that contains the relevant year-end data. This is known as the "year end process".
The first step in the process is to define a number of company-related settings that must be included in the XML file that you will submit to the CRA. These company settings will be combined with each employee's pertinent data when you generate the final XML file.
Before you Begin: Before you create your year-end settings, you must first clear your payroll's year-to-date values (YTDs). eNETEmployer prompts you to clear the YTD's when the pay date falls into the new year. Once the first payroll of the year has been calculated and the YTDs are cleared, you can proceed with the steps below.
---
Part A) To define your company's year end settings:
Choose the Year End - Year End Settings menu command. This opens the Year End Settings screen where you can define the required settings for performing a payroll calculation for the current payroll.

Year End Settings Help page...


Depending on your payroll situation, you have two choices:
If this is your first year end, this screen will be blank and you will need to add a new settings row (see Fig. 01 below).
If no row exists in the table, select the New button from the Button Bar. The new settings row will appear in the table with its cells ready for editing.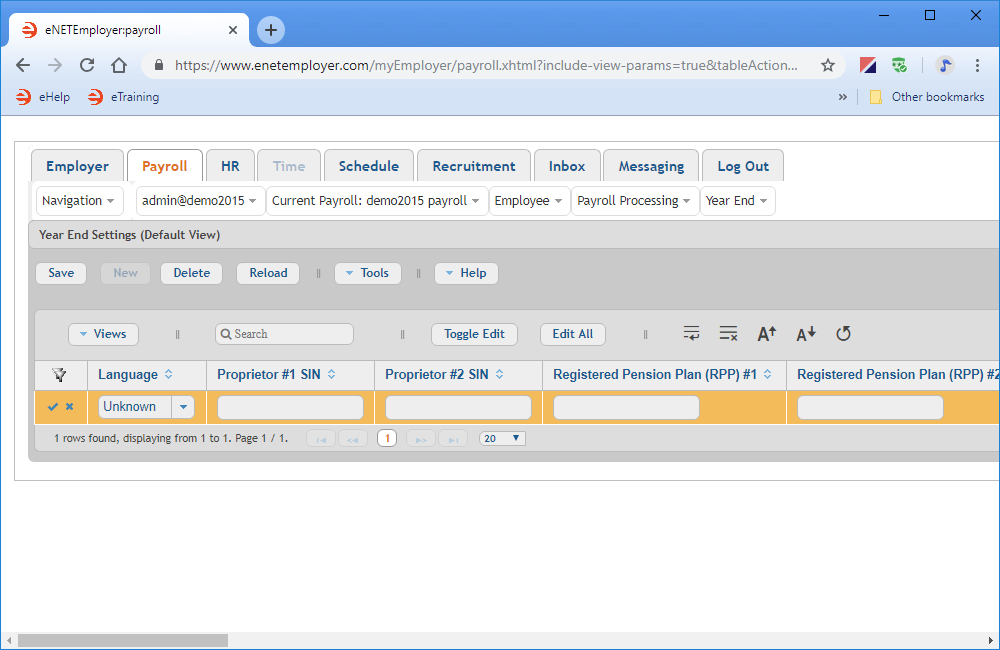 Edit the various cells to suit your company details (press <F1> to use the Online Help system if you need to look up a definition for the various cells).
Once your changes are complete, select the Save icon (the check mark icon at the left side of the row). This accepts the new settings and the Edit Mode icons are removed to indicate that the entire row has been saved. You can also choose the Save button from the Button Bar above the table.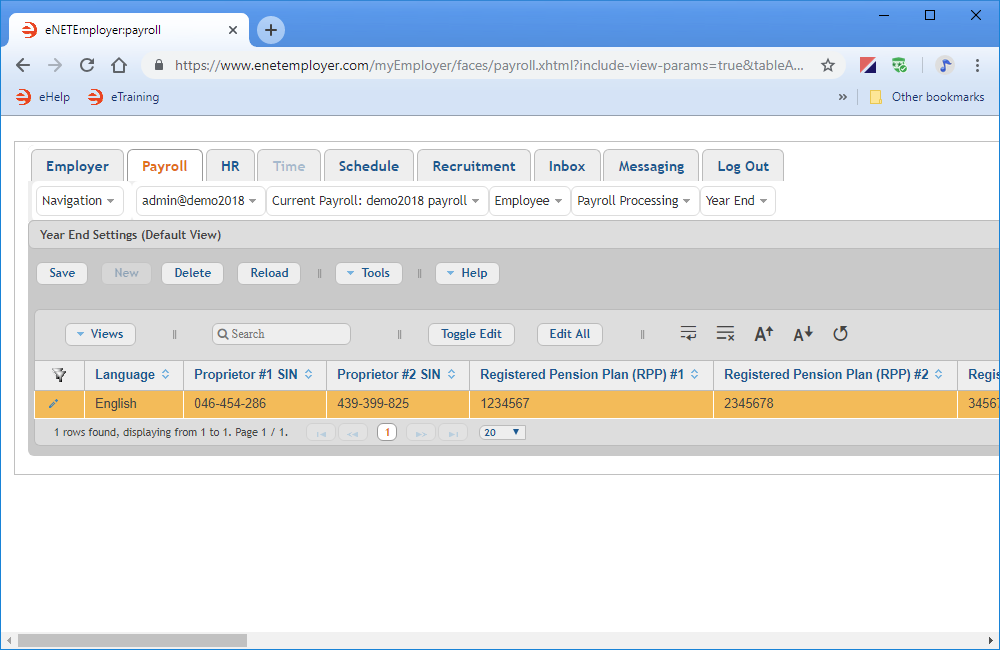 Now that this record has been created, you will not need to recreate it again. You can simply review the information each year to verify its accuracy, and it can be used for each subsequent year end process.
This completes the tutorial on how to create your year end settings.
Note: If you wish to continue with the year end process, please refer to the links below where you can learn how to create your employee T4s and to edit them if required.
---
See Also:
Year-End Settings
Employee T4s
Employee T4As
T4/T4A Report
T4/T4A Statements
Magnetic Media Filing